How We Generated Over 790 leads And 60 Booked Sales Calls In One Month For This High Ticket Coach
When Eliane first approached us she had already tried out three different agencies and found zero success using Facebook ads. She had grown a sizeable Facebook group and community organically and while she was doing well there she knew she should be leveraging the power of their ad platform. We were recommend as one the top Facebook ad companies and knew we could help her scale. Here's how we did it.Here's how we did it:
The Problem
Eliane had some success with an organic Facebook community but could not get Facebook ads to work for her on her own or with the help of other agencies. So she reached out to us to discuss how we could increase her revenue using Facebook ads.
The Solution
We helped her set up a Sam Ovens style funnel leveraging her current organic community ad pushing them to a recorded webinar.
Using the rapid fire testing methodology we tested multiple audiences within French speaking countries to determine the best audiences to scale.
Using her previous client list we were also able to set up multiple lookalike audiences for testing.
We then had her begin to do one live webinar per week and launched campaigns that ran along side our other campaigns to drive traffic specifically to the live webinars.
Finally we launched re-targeting ads for all those that had viewed any of her webinars to get booked appointments directly into her calendar.
All Of This Led To Over 790 leads And 60 Booked Sales Calls In One Month For This High Ticket Coach!
The Results
These results are from a one month period using a budget of $6000 per month.
As you can see below, we achieved 791 registrations at a cost of $3.95 per for the recorded webinar / challenge funnel. We also achieved 30 total call bookings, 28 of which filled out our 2 page qualifying survey.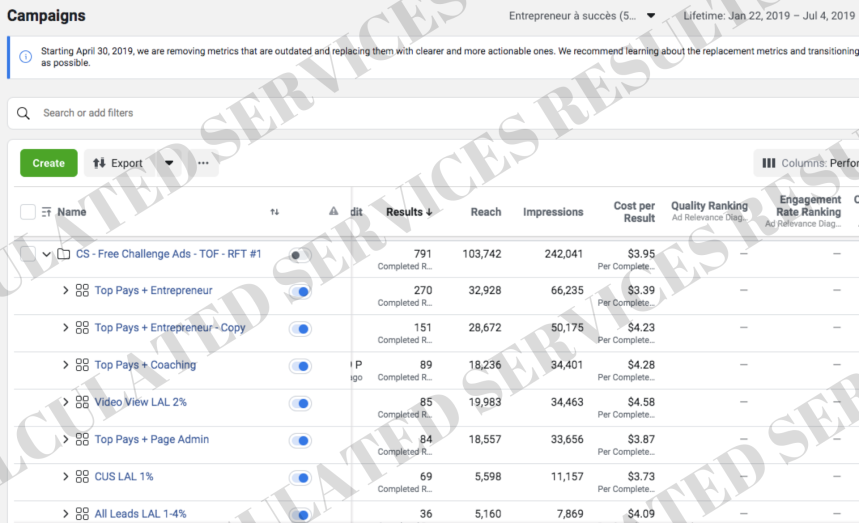 Our re-targeting campaigns achieved an additional 20 booked appointments, all of which filled out our qualifying survey.
As with all of our campaigns we set up an in depth follow up system to make sure our client extracts the absolute maximum amount of value from each and every lead generated.
Our client has already managed to close 5 $10,000 sales from these efforts giving them almost a 10X return on their adspend.
Could your pipeline use a few more of these kinds of leads?
INCOME DISCLAIMER: The sales figures stated above are sales figures from (personal results, client results). Results are not typical. We are not implying that you will be able to duplicate these results and are using these references for example purposes only. Your results will vary and depend on many factors…including but not limited to your background, experience, and work ethic. All business entails risk as well as massive and consistent effort and action.